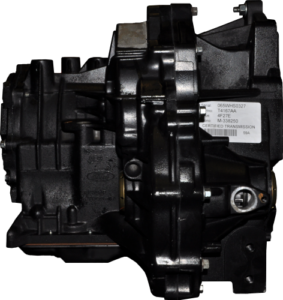 Mazda FN4A-EL / Ford 4F27E

The FN4A-EL is an electronically controlled 4-speed automatic transmission, used by Ford and Mazda. Ford's name for this transmission is 4F27E, Mazda's name for this transmission is FN4A-EL. This dipstick for this transmission says "M V" on the dipstick handle in Mazda vehicles. This transmission uses Mazda M5 fluid (Mazda part number: 0000-77-112E-01), which is NOT Mercon V or Mercon LV according to Mazda Technical Service Bulletin 0500116. This fluid is made by Idemitsu corporation (according to the label on the back of the Mazda bottle). Idemitsu sells the equivalent Type-M fluid in the aftermarket. The equivalent Ford fluid is FNR5 (Ford part number: XT-9-QMM5).
The FN4A-EL is a strengthened 4-speed F-4EAT automatic. It now has a four-element torque converter that includes a torque converter clutch and geartrain with two planetary gearsets, a transfer-shaft gear final drive, and a larger differential. The hydraulic control system of the FN4A-EL transaxle has six electronically controlled solenoids for shift feel (through line pressure control), shift scheduling (through shift valve position control) and TCC (torque converter clutch) apply, controlled by pulse-width modulation (PWM).
Applications:
Ford Transit Connect with 2.0L Duratec engine 2010–2013
Ford Fiesta MK7 (2008-2012) 1.4L & 1.5L Duratec engine (Ti-VCT)
Ford EcoSport with 2.0L Duratec engine
Ford Focus 2000–2011
Mazda2
Mazda3
Mazda5
Mazda6
Mazda CX-7
Mazda Verisa
Certified Factory Direct Transmissions (FDT-Online.com) is a subsidiary of Glen Burnie Transmissions
7166 Ritchie Hwy

Glen Burnie, MD 21061
410-324-3914
This transmission has a 3 year, 100,000 mile nationwide warranty.

Price: $2095.00 Free Shipping to your local mechanic and core return shipping.