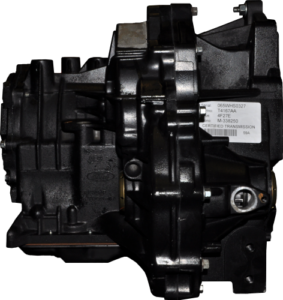 2010 Ford Transit Connect 4F27E Transmission

The 4F27E is an electronically controlled 4-speed automatic transmission, used by Ford and Mazda. Ford's name for this transmission is 4F27E, Mazda's name for this transmission is FN4A-EL. This dipstick for this transmission says "M V" on the dipstick handle in Mazda vehicles. This transmission uses Mazda M5 fluid (Mazda part number: 0000-77-112E-01), which is NOT Mercon V or Mercon LV according to Mazda Technical Service Bulletin 0500116. This fluid is made by Idemitsu corporation (according to the label on the back of the Mazda bottle). Idemitsu sells the equivalent Type-M fluid in the aftermarket. The equivalent Ford fluid is FNR5 (Ford part number: XT-9-QMM5).
Looking for a rebuilt transmission? We've got something better! No matter what you drive, Certified gives you a superior transmission at a price you can afford. With 3 state-of-the-art remanufacturing facilities and ASE-certified technicians, we do the job right. Whatever your transmission, Certified is here with your replacement.
We remanufacture transmissions to OEM or better specifications. Our transmissions are superior and perform better than a used or rebuilt transmission. We use the best parts and components available and we machine to tighter tolerances. We don't just replace a single part and put you back one the road as many rebuilders do. We replace all the parts. Before shipping , we run dynomomoter tests to be certain your transmission will perform as well or better than new.

Applications:
Ford Transit Connect with 2.0L Duratec engine 2010–2013
Certified Factory Direct Transmissions (FDT-Online.com) is a subsidiary of Glen Burnie Transmissions
7166 Ritchie Hwy

Glen Burnie, MD 21061
410-324-3914
This transmission has a 3 year, 100,000 mile nationwide warranty.

Price: $2095.00 Free Shipping to your local mechanic and core return shipping.
2010 Ford Transit Connect 4F27E Transmission
$2095.00
Available today!